Home > Garage Sale > Stories From the Sale
Stories From the Sale
From Buyers, Sellers & Friends
A Steal For $5.00!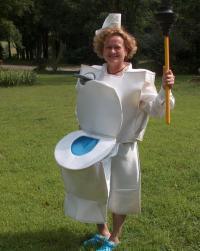 What beautiful weather for the sales this past weekend! My husband and I took our friend Herta from Chicago along with us this year. She was amazed at how many sales there were! (We started in Buchanan and made it to Union.) She found this treasure in Edwardsburg - and it was a steal for only $5! Had a great time and looking forward to the 2012 sales
Skeptical
I have a confession to make. I was never very gunho about this U.S. 12 Yard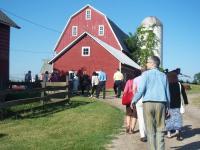 Sale, but I supported the idea because I thought "what the heck"? I was thoroughly surprised Friday when SO MANY people stopped at Rentschler Farm in Saline and said they were "doing the whole 212 miles". Several said it was part of their vacation. And some said they do the trek every year. One couple drove from the west side of the state the day before, stayed in a motel and were working their way back home starting with our sale. I might add they were waiting for me when I pulled into the farm yard at 7:50 -- more than an hour before we were to open. How exciting.
Saline, Michigan
You Never Know What You Will Find!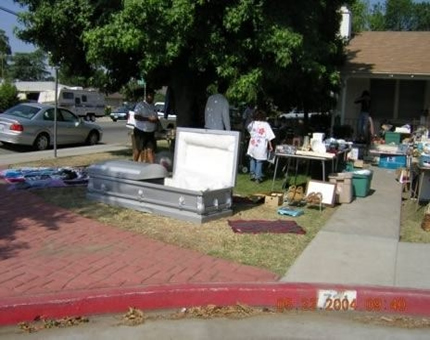 I just had to e-mail to tell you that a man I work with and his wife attended the US-12 yard sale last weekend, and they had a great time. The funny part of the story is that the man bought a coffin in Union for $35! Yes, a coffin. So, I have 4 questions:
1. Who buys a coffin at a yard sale?
2. What kind of person is selling a coffin at a yard sale??
3. Whose coffin was it???
4. Who is the coffin for????
This page last updated on 7/14/2022.